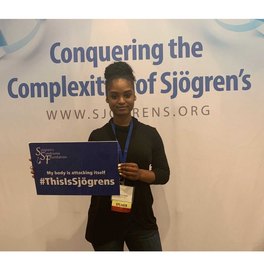 "Since I was diagnosed with Sjögren's, I have learned..."
How did you get involved with the Foundation? I first got involved with the Sjogrens Syndrome foundation after speaking to the Pediatric Sjogrens support group. It was great to be able to speak with parents and children regarding the obstacles and triumphs experienced as a patient diagnosed with Sjogrens at 11 years old.
When you were crowned Miss Massachusetts, why was it important to you to use your platform for Sjögren's Awareness? I wanted to make sure that those living with Sjogrens knew that they were not alone in their journey. I also wanted to bring additional awareness to this disease knowing that millions of people are impacted by it.
You made a video with the Miss USA organization where you talked about your Sjögren's story. What is the main message you wanted to convey from that video and was it difficult to share your Sjögren's Journey?
The primary message of my Sjögren's journey is that those impacted with Sjögren's can still go on to reach their goals and be successful in life. For me, I always had the dream of competing at Miss USA. In middle school and high school, I competed in pageants with a swollen left parotid gland the size of a tangerine and I won most of them. The size of my gland diminished with Rituximab treatment over the course of 4+ years. However, I am sure that if my gland decided it wanted to swell before Miss USA that I would have taken the stage with my hair pulled back, and my head held high. It was very difficult to have a swollen parotid gland as a child and even through some of my college years. Sharing the photos of my gland and treatments on national television was quite emotional for me, but I felt that it was part of my story that needed to be shared with the nation. Sjögren's is an auto-immune illness, and as patients we are not products of Sjögren's but owners of it. Through the treatments, profound fatigue, unprecedented dry mouth, and dry eyes, we are still able to conqueror the day and conqueror our goals. I am currently not only the reigning Miss Massachusetts USA 2018, but an MBA student, a full time Integration Architect for a healthcare technology company and a Sjögren's warrior.
Until there is a cure, as patients, we will always have days where we curse the existence of Sjögren's. With that, we should remember to be kind to ourselves, even on our bad days. Make time to rest, relax, and do those things that we enjoy. We should keep a healthy diet and stay active physically as much as we can, and work with our physicians to promote the healthiest version of ourselves. We are the captains of our ship and the makers of our destiny. Let us continue to do research as a patient, help educate our providers and those around us, and continue to support finding a cure. Always let your voice be heard and never be ashamed of this life you have been presented with, for we are given the life we have because we are strong enough to live it.