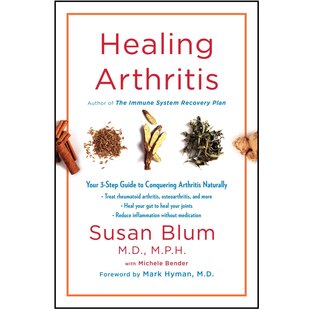 Description
by Susan S. Blum, MD, MPH  (Author), Mark Hyman (Foreword)
Author of the bestselling The Immune System Recovery Plan shares her science-based, drug-free treatment plan for the almost fifty million people who suffer from arthritis: an amazing 3-step guide to eliminate the disease naturally.

Arthritis is the most common cause of disability in the world—greater than both back pain and heart disease. One example, Rheumatoid Arthritis (RA), is the most common autoimmune disease, affecting 1% of the US population, and almost 68 million people worldwide. Conventional medicine tends to treat arthritis with strong, gut-damaging, immune-suppressing pain medications, temporarily relieving the symptoms of the disease without addressing its root causes. Now, in her groundbreaking new book, Dr. Susan Blum, a leading expert in functional medicine, offers a better approach to healing arthritis permanently.

Dr. Blum's groundbreaking three-step protocol is designed to address the underlying causes of the condition and heal the body permanently by:

-Treating Rheumatoid Arthritis, Osteoarthritis, and more
-Healing your gut to heal your joints
-Reducing inflammation without medication

Dr. Blum's innovative method includes a two-week plan to quickly reduce pain through anti-inflammatory foods and supplements; followed by an intensive gut repair to rid the body of bad bacteria and strengthen the gastrointestinal system for a dramatic improvement in arthritis symptoms and inflammation; and then addresses the emotional issues that contribute to inflammation, and eating a simple, Mediterranean inspired diet to maintain a healthy gut.

Featuring detailed case studies, including Dr. Blum's own inspiring personal story, Healing Arthritis offers a revolutionary way to heal your gut, repair your immune system, control inflammation, and live a happier, healthier life…arthritis-free.
Sjögren's-Related Books