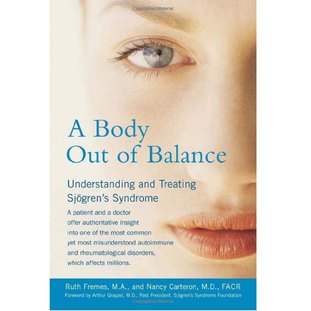 Description
by Ruth Fremes, MA
and Nancy Carteron, MD, FACR

One of the most common yet underrecognized autoimmune and rheumatological disorders, Sjögren's syndrome, affects more people than rheumatoid arthritis and lupus combined. A Body Out of Balance provides a comprehensive guide to a wide array of symptoms, traditional and complementary treatments, and invaluable coping methods, so patients may devise a personal treatment plan.
Cowritten by a woman living with the disease and by a physician who has treated Sjögren's patients, this indispensable resource will enhance awareness and demystify this often misunderstood disorder.
About the Authors
Ruth Fremes, MS is the author of nine books on health and nutrition, has consulted for the University of California, the American Dietetic Association, and the National Cancer Institute.
Nancy Carteron, MD, FACR is a fellow of the American College of Rheumatology and maintains a private practice in rheumatology and autoimmune disease at the California Pacific Medical Center in San Francisco. Her extensive research on autoimmunity has appeared in numerous medical journals and publications.
Sjögren's-Related Books