Congratulations to Team Sjögren's for completing your Spring 2022 Race!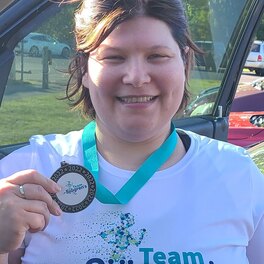 Congratulations to our amazing Team Sjögren's Runners on completing your Spring 2022 Virtual Race! 
Our Spring 2022 team consisted of 33 team members representing 19 states, 22 of which are Sjögren's patients, running on behalf of the 4 million Americans who have Sjögren's. As of June 7th, the team has raised over $13,000 to help support Sjögren's research and education.
Team Sjögren's is the Sjögren's Foundation virtual running program, designed to support individuals running a 5k, 10k, Half or Full Marathon. Our team consists of both walkers and runners who completed their distance over the weekend of June 4-5th.
In addition, our team members increase awareness for Sjögren's and helps raise crucial funds for research and education. 
Congratulations Team Sjögren's!

If you were a part of this race, please send your pictures to the Foundation. For information on future races please contact kford [at] sjogrens [dot] org (Kalla Ford).