My Cleats My Cause Supports Sjögren's
Thank you, Lunda Wells, tight end coach for the Dallas Cowboys, for using your #MyCauseMyCleats on Thursday Night Football (12/2) game to honor your wife and all Sjögren's patients.
---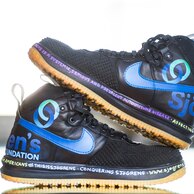 ---
My Cause My Cleats, gives players and coaches the opportunity to pick a cause that is important to them and represent their chosen organization on custom designed cleats. During last night's game, Wells has chosen the Sjögren's Foundation as his organization to highlight.
Sjögren's ("SHOW-grins") is a systemic autoimmune disease that affects the entire body. Along with symptoms of extensive dryness, other serious complications include profound fatigue, chronic pain, major organ involvement, neuropathies, and lymphomas.
Thank you Coach Wells and Congratulations to the Dallas Cowboys on their win during the #MyCleatsMyCause game!