Sjögren's Foundation Supports ILD Day!
Introduction
We are kicking off the third annual ILD Day on September 13th, 2023 in support of the Pulmonary Fibrosis Foundation's (PFF) initiative to increase awareness and understanding of interstitial lung disease (ILD) among patients and healthcare providers.
We proudly collaborate with eight other organizations for this effort, including the sponsor- Pulmonary Fibrosis Foundation, Arthritis Foundation, Foundation for Sarcoidosis Research, The Myositis Association, PF Warriors, Scleroderma Foundation, Scleroderma Research Foundation, and Wescoe Foundation for Pulmonary Fibrosis.
Keep reading to find out more about ILD and to register for the ILD Day educational webinar hosted by the Pulmonary Fibrosis Foundation!
---
What is ILD?
There are over 200 causes of ILD with more than 50,000 Americans newly diagnosed with ILD each year. ILD is characterized by inflammation and/or scarring in the walls and surrounding tissue of the air sacs in the lungs. Inflammation and scarring can affect the lungs' ability to carry oxygen, making it harder to breathe and deliver oxygen to the rest of the body. The damage caused by ILD can be irreversible and worsen over time.
When patients with ILD develop scar tissue, this is called pulmonary fibrosis (PF). Patients with PF can have low oxygen levels causing them to have difficulty doing everyday tasks, including walking, and exercising. There are more than 250,000 Americans living with PF.  
Approximately 16% of Sjögren's patients demonstrate pulmonary complications with increased mortality and lower quality of life. However, this figure may be low due to gaps in awareness and education. The most common pulmonary complication in Sjögren's patients is ILD.
---
Symptoms and Risk Factors of ILD in Sjögren's patients
Symptoms of ILD depend on the severity of the disease. Most Sjögren's patients will not experience symptoms during the early stages of ILD but will develop dry cough and shortness of breath on exertion. ILD symptoms can include shortness of breath, cough, sputum production or chest pain. The onset of ILD in Sjögren's may increase with time following diagnosis of Sjögren's. ILD may become irreversible and debilitating, including increasing the risk of pulmonary hypertension that can lead to heart failure.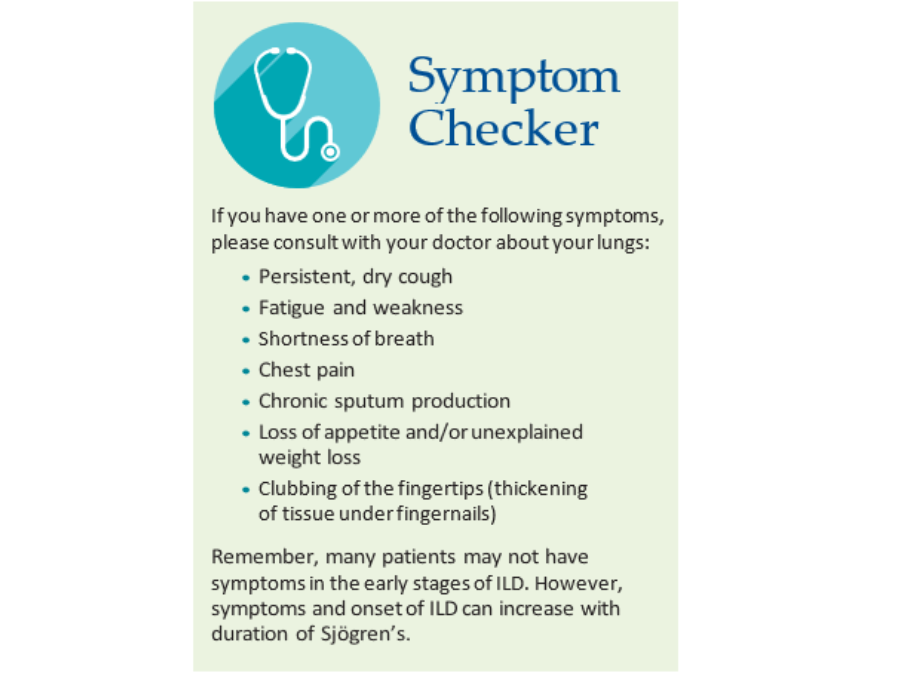 ---
Diagnosis and Treatment in ILD and Sjögren's
Diagnosis of ILD can be difficult. We encourage patients to take charge of their lung health! Chest x-rays, pulmonary function tests, and high-resolution computed tomography (HRCT) scans help confirm diagnosis and severity of ILD as well as other lung complications that Sjögren's patients may experience. 
The current treatments for ILD are corticosteroids, immunosuppressives, and biologics against inflammatory mediators produced as a part of ILD. As with any treatment, be sure to talk with your doctor and discuss the best treatment options for your Sjögren's.
Sjögren's is a complex, systemic disease and it is important to have a well-rounded team that includes a rheumatologist, primary care physician, pulmonologist, pathologist, radiologist, and, when appropriate, an oncologist to best guide your diagnosis and treatment.
Please visit the Sjögren's Practice Guidelines for Pulmonary Manifestations. These clinical practice guidelines were created to improve the quality of care for Sjögren's patients through the assessment and management of pulmonary manifestations.
---
Ask the Expert: Dr. Nishant Gupta

For expanded information from our expert on ILD in Sjögren's, please visit Dr. Nishant Gupta's blog.
---
ILD Day Educational Webinar
---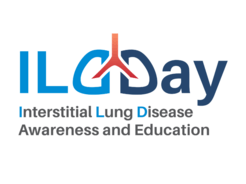 ---
Meet the ILD Day Webinar Experts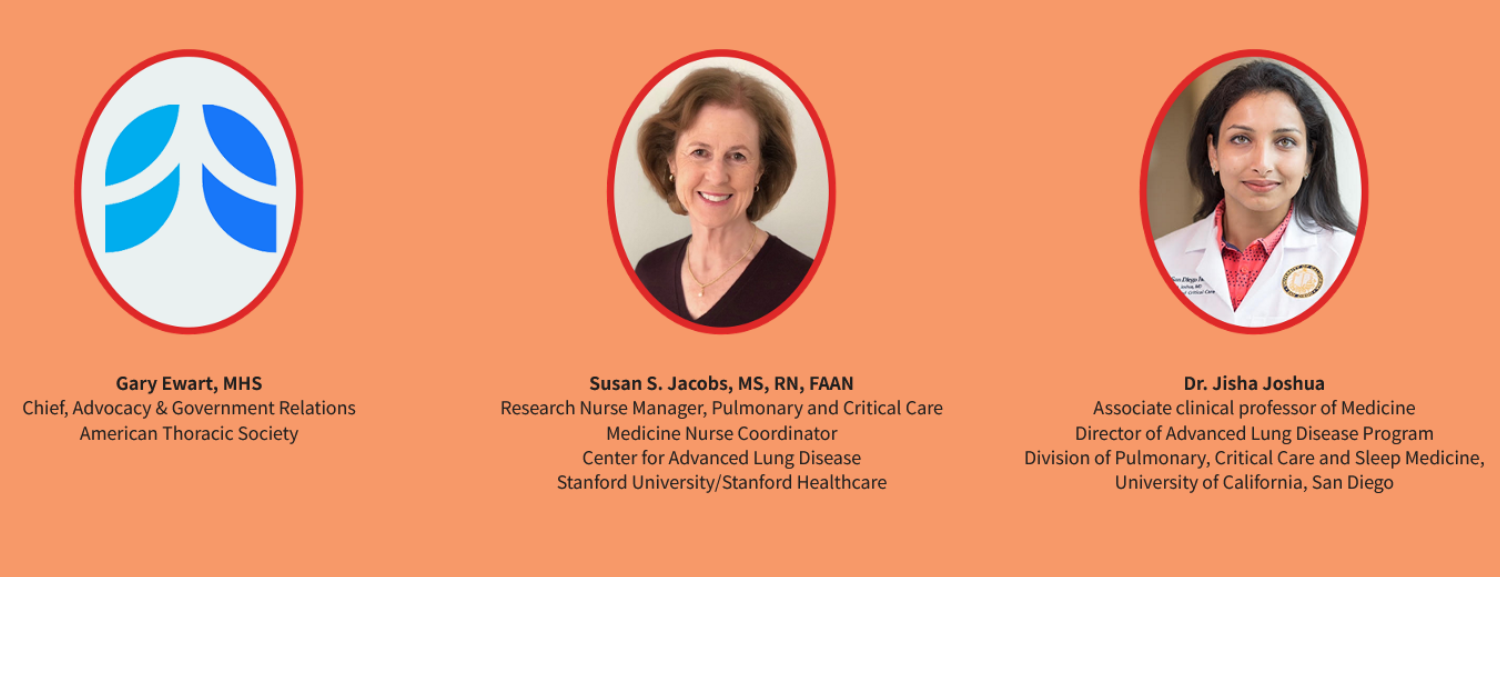 ---